King cake lovers looking to get an extra fix before the season ends are in luck.
Urban South Brewery has teamed up with Dong Phuong Bakery to can up the cinnamon and cream cheese flavors of Mardi Gras. 
The brewery and taproom at 1645 Tchoupitoulas St. says their classic "Carnival Time" sour ale, introduced earlier this year, pairs well with king cake, fried chicken and doubloons.
In collaboration with a classic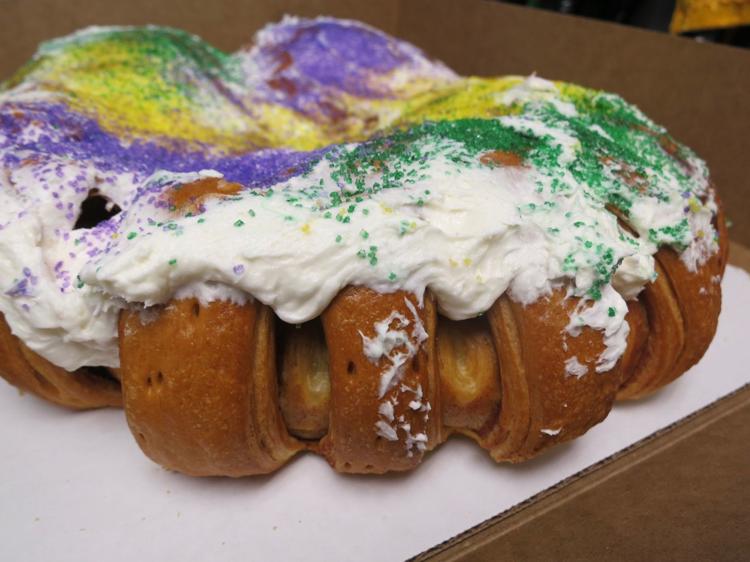 Dong Phuong in New Orleans East is known for its ultra-popular king cakes.
The James Beard Award-winning Vietnamese bakery sold out of pre-order slots shortly after the season began.
It also sells banh mi and other season staples. 
Whole Dong Phuong king cakes can be purchased at Urban South taproom every day of the week except Tuesday, or straight from the bakery at 14207 Chef Menteur Hwy.
Where to find 'Carnival Time'
The beer can be poured from the tap at their taproom or purchased by the pack at several local retailers. 
Those in search of it can use an online "beer finder" that locates Urban South brews by area. 
Outside of Louisiana, Carnival Time is available in Mississippi, Alabama and Tennessee, according to their website.
The Mardi Gras line up
Urban South is also pouring two additional Mardi Gras-themed brews for the season. 
Sidewalk Side is is a double IPA brewed with Galaxy hops. 
Neutral Ground is a fruited IPA with pineapple.
Both are available for purchase in packs of 4, at $20 per pack.  
Parade packs
Carnival goers also have the option to purchase a "Parade Pack," which includes an 8-piece fried chicken bucket, two 6-packs of their core beers, one Dong Phuong king cake and a bag of ice. 
Pre-orders can be made online for pickup on the Saturday and Sunday of Mardi Gras weekend.
Rising in popularity
The New Orleans based-brewery opened a second location in Houston in the fall of 2019.
It went from selling exclusively in Louisiana three years ago to having distribution in Texas, Mississippi, south Alabama, and Tennessee in partnership with Budweiser-Busch Distributing.
The beer maker also acquired a small craft beer operation in Pensacola, Florida last August.