A New Mardi Gras?
Ask yourself, what defines Mardi Gras in the early 21st century? Is there really such a thing as a New Mardi Gras?
Certainly!
Probably.
Okay, maybe.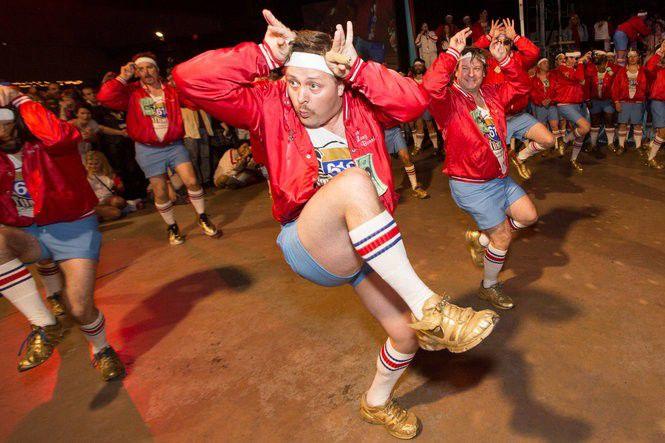 What it is ain't exactly clear
There's something happening here, a new aesthetic, but it's not an easy concept to define. The New Mardi Gras seems to have been born of post-Katrina recovery passion. It's about DIY participation. Its stronghold is downtown, it's about marching and dancing, it's not so much about floats and throws. The participants have a sense of community, but not a sense of high society. The New Mardi Gras is only popular with hipster newcomers … and natives. It's not exactly traditional, though it was inspired by age-old Mardi Gras Indians and Baby Doll customs, plus the free-form costuming and parading that recalls Mardi Gras' earliest beginnings.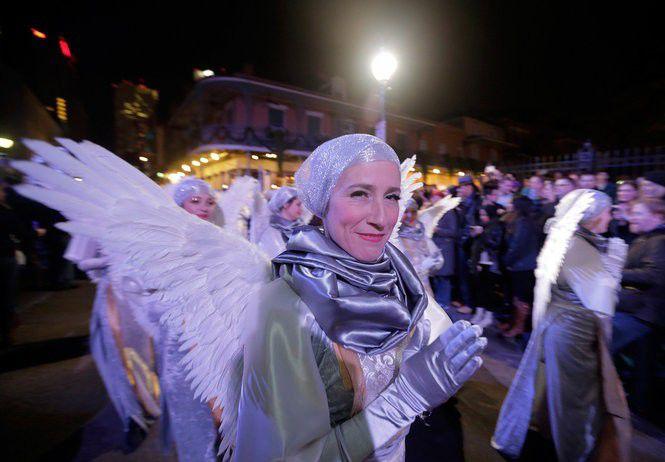 Feel free to disagree
Rest assured, time and again in this story, you're going to think of exceptions that undermine some of these precepts. Handmade throws, for instance, may seem like an example of a New Mardi Gras custom. But, of course, Zulu riders have been decorating their coveted coconuts for almost a century. As always, feel free to disagree with anything, as you read on. But do read on.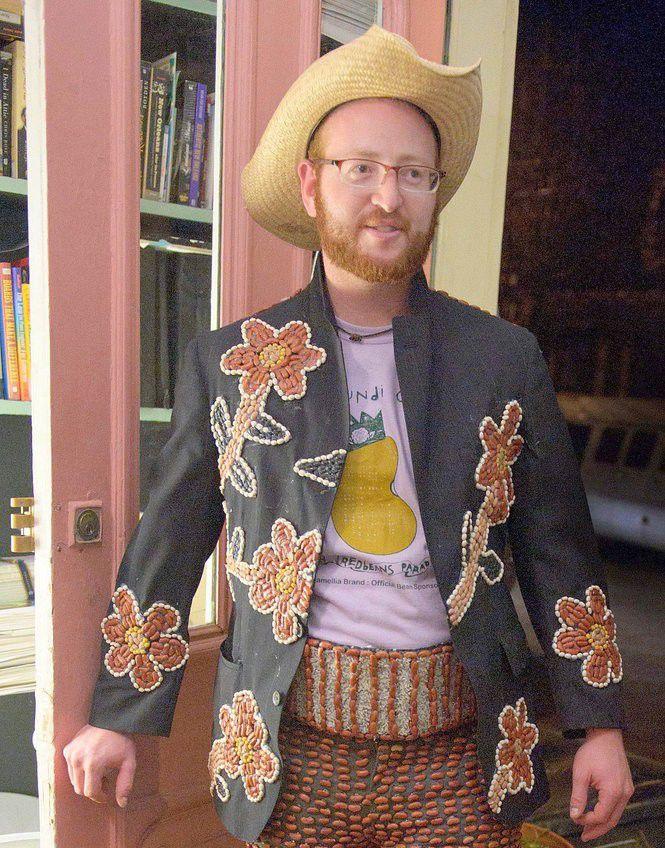 The bean man cometh
Artist Devin De Wulf was one of those marvelous young volunteer-types who moved to New Orleans to help with the recovery. The Charleston native loved it here. He arrived in 2007, saw his first Mardi Gras parade in 2008, and founded his own marching group by Lundi Gras 2009. This year, he expects to have 100 marchers and a crowd of 2000 onlookers.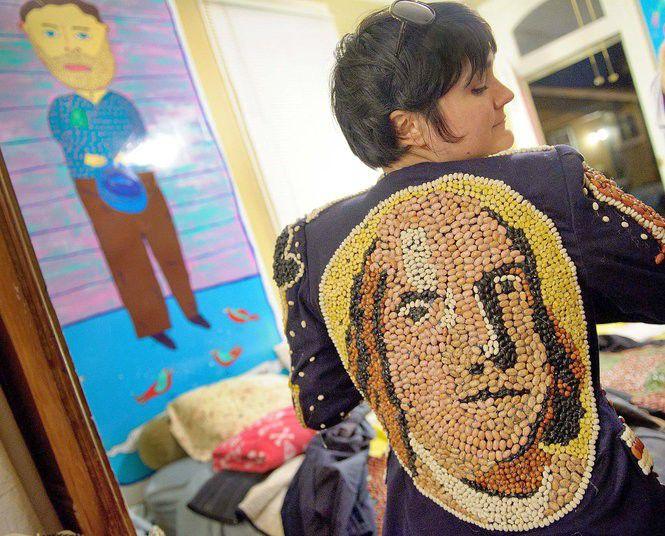 The illustrative history of the illustrious Red Bean Parade
His krewe members make costumes by mosaicking red beans, rice and other dried legumes and grains to garments with hot glue. If you've ever seen the parade, you'd agree, some of their work is downright brilliant.
The krewe of Red Beans is the perfect example of the do-it-yourself vibe that is one of the defining characteristics of The New Mardi Gras. But …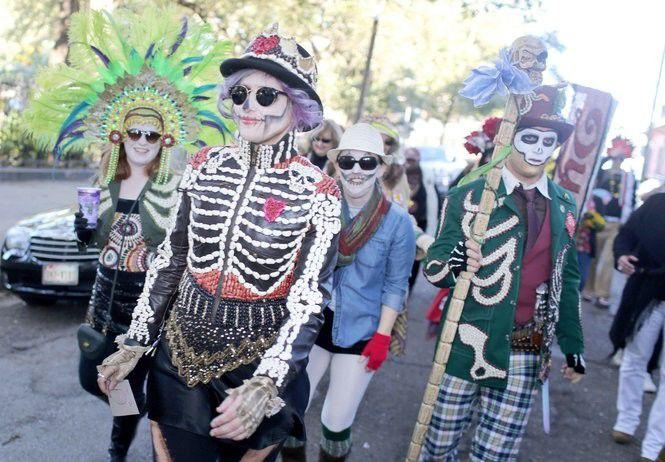 Hey pocky Powerpoint presentation
De Wulf, who would become a middle school social studies teacher, said that in a way the Red Beans parade isn't new at all. As he settled into his new home, he schooled himself in the heritage of Mardi Gras Indian bead work and group-participation second-line parades. Whenever possible, he consumed red beans on Mondays. He invited Al "Carnival Time" Johnson, who sang one of the defining Mardi Gras songs, to be the parade's grand marshal for life.
In other words, the Red Beans parade may be new, but it's all about Carnival tradition, just stirred up a little.
De Wulf said the synthesis was completely deliberate. "It was self-consciously combining the meticulous process of making a suit for many months, plus the second-line tradition of dancing for hours."
De Wulf said he created a Powerpoint presentation of his various influences to show to prospective participants.
A Powerpoint presentation! Talk about your New Mardi Gras.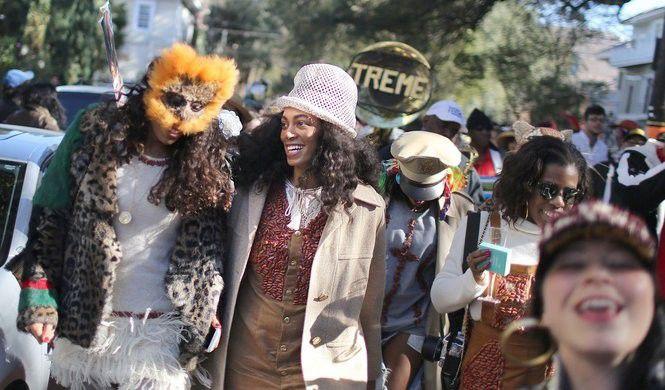 In the beginnings
Every New Mardi Gras krewe has a different origin story, but they're all more-or-less in the mold of the Red Bean parade. Someone, often from somewhere else, falls in love with Crescent City Carnival culture and dives right into the pool.
Note: The 2017 Red Bean parade starts at 2 p.m. Monday (February 27) at the Marigny Opera House, 725 St. Ferdinand Street.
You call that art?
"It just takes one clear concept," said Ryan Ballard, the founder of the 3,000-member Intergalactic Krewe of Chewbacchus, the biggest of the New Mardi Gras organizations. "Just one strong, clever theme."
And the clever themes are all over the map.
The 'tit Rex parade, that first rolled in 2009, is about satirical miniaturization. The Krewe de Jeanne d'Arc parade, that also marched for the first time in 2009, is about celebrating the 15th-century martyr. The Chewbacchus parade, founded in 2011, is about science fiction and pop culture. The theme of Krewedelusion, that first took to the streets in 2010, is a little vague, but it's increasingly political and perennially artistic.
Art is important in the New Mardi Gras. Amy Kirk Duvoisin, founder of the Joan of Arc parade, said she first saw the procession as  performance art. The floats from the first mini 'tit Rex parade were shown in an art gallery. Ballard said that he views Chewbacchus and some of the other krewes as ongoing conceptual artworks. And L.J. Goldstein, the founder of krewedelusion, described their 2017 parade as "poetic" – anyone who saw it would agree.
For more, read: "What on earth is the Chewbacchus parade? Answers for newbies"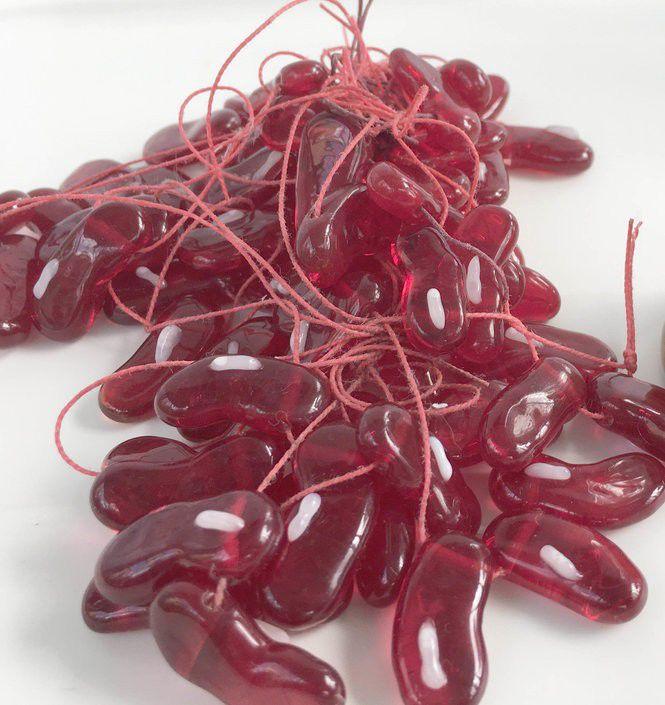 Gently hand me something precious, mister
At their best, the handmade throws lovingly passed out by most of the New Mardi Gras parades are mini works of art. They also represent an ecological consciousness that has not yet penetrated the older parades.
Speaking for the membership of krewedelusion, Goldstein said that "they would be ashamed to buy beads from China… What I think it comes down to is a distinct change in values."
De Wulf said that this year, Red Bean paraders will be passing out glass beans made by New Orleans artist Nancy Thacker.
I want one!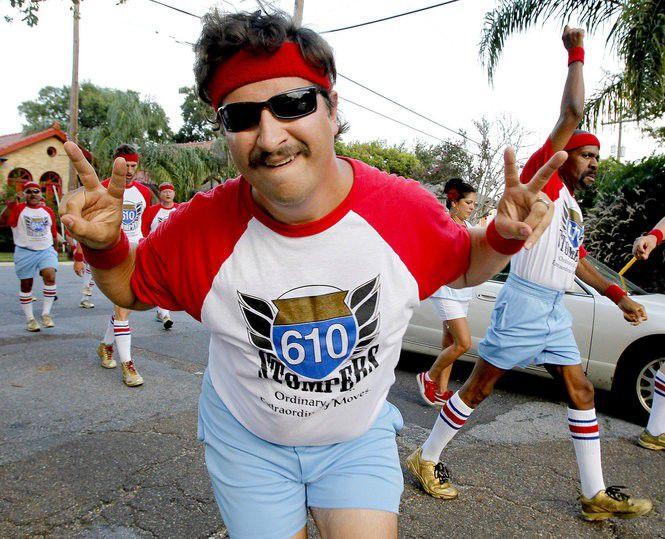 The head Stomper
The wave of DIY dance groups that have popped up since the millennium, from the Pussyfooters to the Amelia EarHawts, help set the tone of the New Mardi Gras.
Brett Patron, the founder of the fabulous 610 Stompers said that he was inspired to form a dance school for ordinary dudes because the economic slump of 2008 had put a big dent in his real estate appraisal business. The dance school concept evolved into the mustachioed, tongue-in-cheek 610 Stompers, arguably New Orleans' most famous DIY troupe.
Patron said that smaller-scale spectacles like the Stompers have always been part of neighborhood Carnival celebrations, but over the past decades the main thrust of Mardi Gras has "become more commercial as these big super krewes were created." Membership in the major krewes was and is expensive, he said and "not all of them have been so inclusive."
So the smaller dance krewes have gotten a foothold, so to speak. And they've provoked change.
"I think it's reinvigorating the city," he said, "Mardi Gras anyway, bringing it back to the citizens. Transplants are drawn to the city for a reason and they want to be a part of it. This is lot less expensive and it takes a lot more creativity. One guy was literally living in his car and trying out for the Stompers, and he made it."
Read: "31 marvelous Mardi Gras dance groups ... and counting"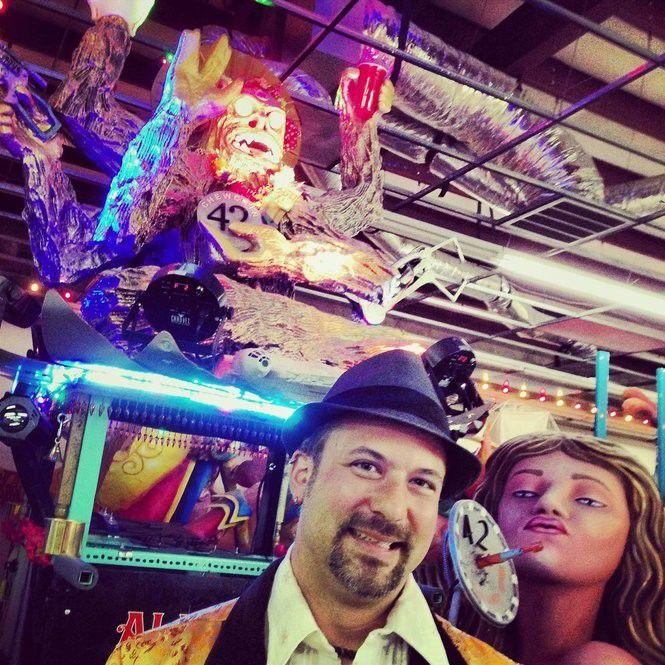 For the low, low price of 42 bucks
Likewise, Chewbacchus co-founder Ballard believes that the low buy-in of the newer marching krewes makes it possible for more and more people to participate. Chewbacchus' dues are only $42. The cost to ride in older krewes can cost hundreds or thousands. Of course, Ballard pointed out, in Chewbacchus you have to produce your costume, mini-floats, and throws yourself.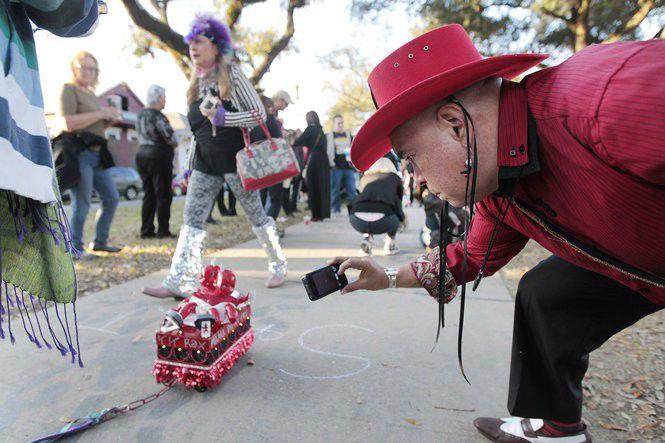 Critical mask
Caesar Meadows, the captain of 'tit Rex, attributes his devotion to the do-it-yourself aspects of Mardi Gras to the influence of The Society of Saint Anne's beyond-spectacular costume march each Mardi Gras morning. Saint Anne has taken place since 1969.
"When I found the critical mass of costuming at Saint Anne, I knew I'd found my tribe," he said.
Read: "Mardi Gras 2016: the sublime Societe de Saint Anne parade Tuesday (Feb. 9)"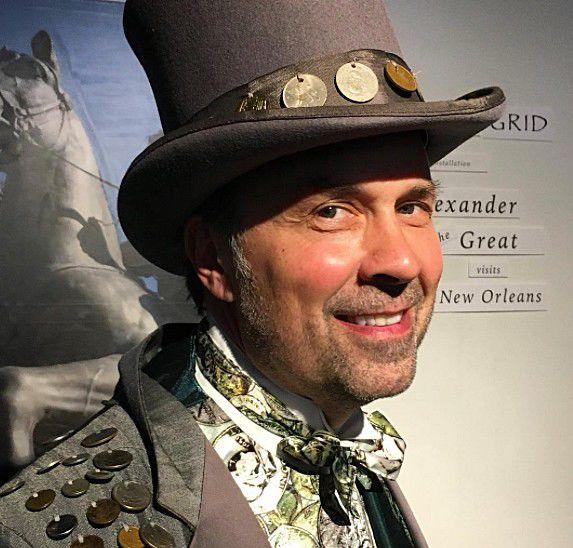 Captain of the bad old Krewe du Vieux
When discussing the low-cost, alternative Carnival model, Ballard credits the lovably-lewd Krewe du Vieux as inspiration. KDV, which was founded in 1986, may be too old to be considered part of the New Mardi Gras, but its do-it-yourself philosophy makes it a model for the younger organizations. Krewe Captain Joe Thompson said that the attraction of participation is what distinguishes some krewes like Chewbacchus from the old-line uptown parades.
Thompson said that he once marched in Chewbacchus and found that "it was so much more about individuals having a good time," without much heed for what onlookers might think.
On the other hand, he said, that same year he watched the venerable Rex parade pass by. The riders, he said, "were having a pretty good time on the floats, though it seemed to be much more staid; not cutting loose. They were doing a presentation for the crowd."
Read: "What is the Krewe du Vieux parade and why you shouldn't go: Answers for newbies"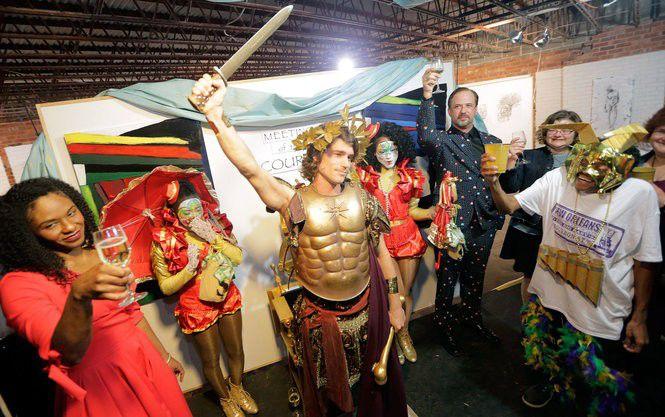 Carnival beneath Canal
Speaking of critical mass, back on Jan. 13, arts advocate Jeanne Nathan, founder of the Creative Alliance of New Orleans, made Mardi Gras history. For the first time that anyone could remember, Nathan gathered together representatives of the majority of the downtown Mardi Gras groups (those that marched mostly in the French Quarter, Marigny and Bywater neighborhoods), for a ceremonial "Meeting of the Courts."
Many of the groups mentioned in this story so far were invited. In a way, the meeting was about nothing more than New Orleans geography, but it also more or less defined the New Mardi Gras.
Read: "The first downtown Mardi Gras marching group meet-up: What does it mean?"
A Downtown declaration
On Jan. 6, the customary first day of Carnival, musician David Roe struck a blow for the burgeoning downtown Mardi Gras by instituting a ceremonial, season-starting streetcar ride on the new St. Claude Avenue/Rampart Street line. The significance was this: For past decades, Carnival has customarily begun with a rolling party aboard an Uptown St. Charles Avenue streetcar chartered by the venerable Phunny Phorty Phellows organization.
Roe's gesture made it clear that there's a new kid on the block.
Read: "Have you heard about the new 'Not So Secret' streetcar Mardi Gras krewe?"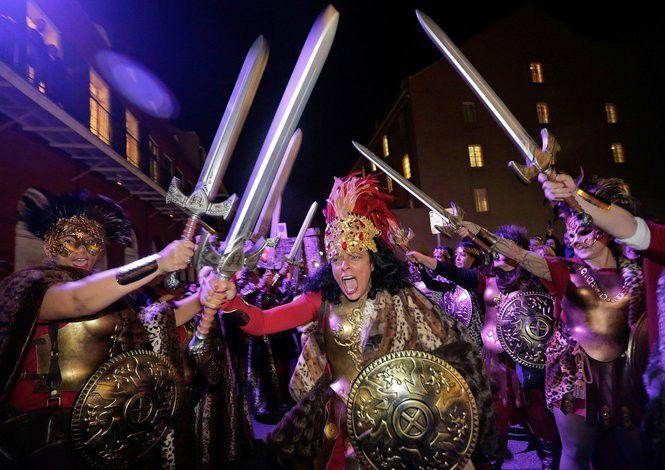 The uprising of all the new krewes
Dianne Honore is founder of the Amazons, a group of warrior women that marches with the Joan of Arc parade, and the Black Storyville Baby Dolls, a modern homage to the women who famously costumed in the African-American part of New Orleans red light district starting in 1912.
Honore said that she welcomes "the uprising of all the new krewes." But she wishes there was a little more old-fashioned discipline among onlookers. These days, audiences sometimes plunge right into passing parades.
When Honore was queen of the Red Bean parade in 2013, she wore an enormous headdress. Somewhere along the route, the crowd flowed into the street and disconcertingly surrounded the marchers.
Honore said that traditionally, the organized marchers and bands at the start of a neighborhood parade are called "the first line" and the ramble of dancers and pedestrians that follow are "the second line." But as she described the Red Bean parade incident, she said: "There was no second line; it was all the first line."
Such is the downside of New Mardi Gras familiarity.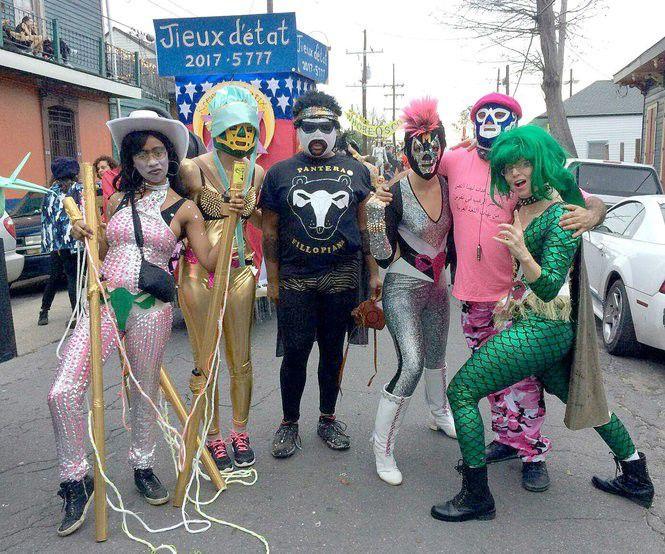 Caution: continuity ahead
Texas transplant Antonio Garza founded a Mexican history-themed marching group in 2008 that paraded near Cinco de Mayo (May 5). Garza said that the group, titled Amigos de los Amigos, satisfied his impulse to participate in the parading tradition, but he's not sure he'd call it a feature of a New Mardi Gras.
"I'm cautious," he said, because I feel a continuity" with older New Orleans customs.
The Amigos de los Amigos has since been incorporated into krewedelusion.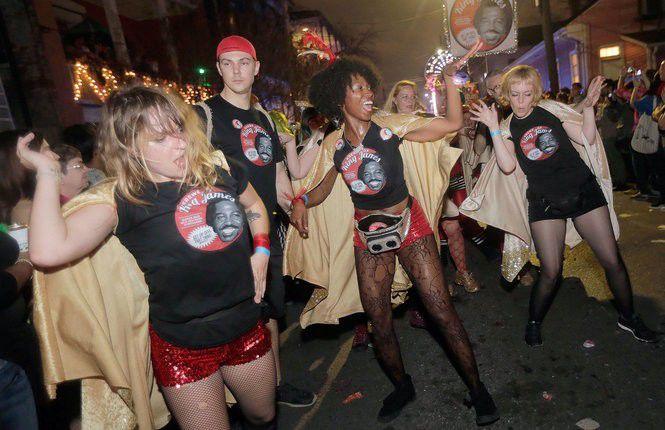 Or maybe there's no such thing
Melissa Weber, better known as DJ Soul Sister, said she doesn't get out to see many Mardi Gras parades. Since 2014, her Carnival activities have concentrated on the dance group she founded, called the Krewe of King James: Super Bad Sex Machine Strollers, which is part of the krewedelusion parade.
Read: "Why women's Mardi Gras dance groups have naughty names: Answers for newbies"
Though she would seem to be in the midst of the New Mardi Gras, Weber isn't so sure such a thing even exists. She points out that some of the oldest traditions, from the Mardi Gras Indians to the Zulu parade, began as and often remain, self-invented do-it-yourself endeavors.
"People have always invented new Mardi Gras traditions," she said.
undefined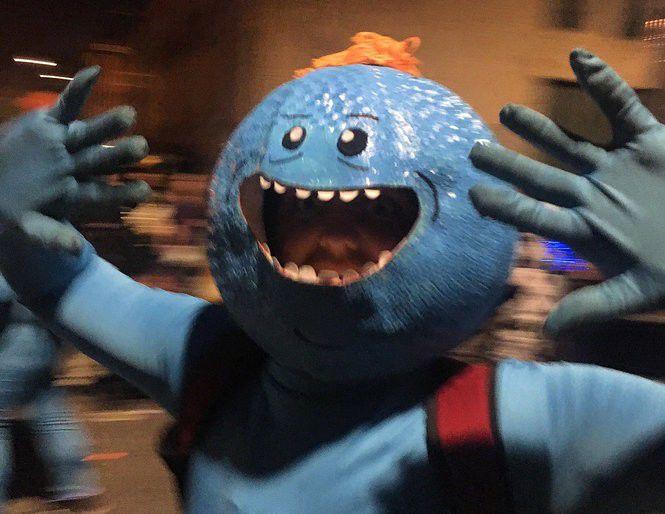 Yer opinions
Is there a New Mardi Gras, or is it just another faulty figment of this reporter's imagination?
If there is a New Mardi Gras, does it detract from the old, or is it a plus?
Do you do the downtown thing?
Do you not?